You callous over, really. Become hardened to all the rubbish being written in the press kits and on the web sites for today's up-and-coming bands. "Throwing Toasters combine the hilarious songwriting of
Tenacious D
with the onstage energy of
Barenaked Ladies.
A must see!"
But then, every once in a great while, something comes along to restore your faith in the PR folks. Lines such as this: "They are as tight as a terrorist cell." Brilliant.
This is a sentence used to describe
Saint Jude's Infirmary,
one of Scotland's most talked about fledgling bands. The Kirkcaldy outfit is fronted by twins Ashley (vocals/guitar) and Grant Campbell (bass/guitar), and features cousin Emma-Jane on percussion. Hmmm . . . we have a family here. Now that whole terrorist cell crack makes sense.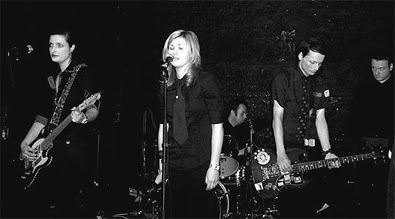 St. Jude's Infirmary will be performing at
Edinburgh's
Cabaret Voltaire
May 20 as part of
Tigerfest.
Now, how to categorize their sound? How about: Fuzzy guitar pop with tinges of post-punk and folk, complete with cheeky, stream-of-consciousness rants. Yeah, sounds like the trite rubbish you'd find in your typical press kit.
Hear it for yourself.
Download:
"PS Scotland I Love You" by Saint Jude's Infirmary.