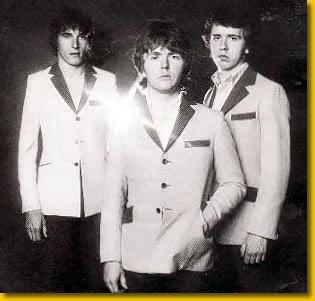 "Punks. They stopped The Pistols! See them tomorrow at the Burns Howff, Glasgow."
-- From an advert announcing an April of 1977 gig by The Jolt. (Courtesy of The ModPopPunk Archives.)
"There was a great sense of something happening in Scotland. We felt that anyway and the gigs used to be really great. There was a spirit of being part of some sort of revolution."
Singer/guitarist Robbie Collins on the U.K. punk scene. (Courtesy of Punk 77.)
"If London's burning, Glasgow's razed."
-- Lyrics from the song "Mr. Radio Man."
"Really its the other way about. It takes guts to go out on a limb, but some people turned their backs on us because we went."
-- Drummer Ian Sheddon on The Jolt being accused of "selling out" following the band's move to London. (Courtesy of Punk 77.)
"We're wearing these suits out of genuine affection for other groups who had that style."
Bassist Jim Doaks on The Jolt's penchant for wearing 1960s era Decca LP jackets, clothing associated with the Mod movement. (Courtesy of Punk 77.)
"Having (we thought) survived The Jam comparisons, we would like to say we do not rip off The Jam. But if you just glanced at us, it might appear that way."
-- From a letter The Jolt penned to the Record Mirror regarding reviews of The Jolt's first album. (Courtesy of The ModPopPunk Archives.)
"Considering what our roots are what we've done is take our influences and move them on. Maybe it comes over sounding a bit safe, but I think that's a lot to with the production."
-- Collins on The Jolt's eponymous debut.Hear it for yourself.
Download:
"What'cha Gonna Do About It" by The Jolt.
A cover version of
The Small Faces'
debut single, which was a top 15 hit back in 1965.