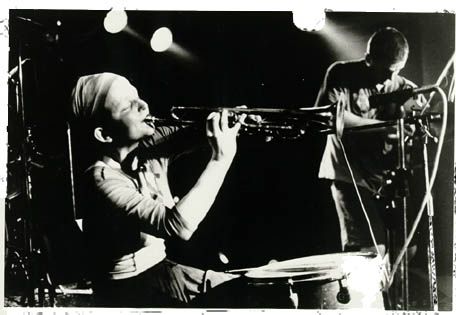 They tapped into the spirit of
No Wave,
utilized odd instruments such as the hippo tube and the foghorn, and did covers of World War II Italian partisan songs. So yes, it's safe to say that based on their style and approach,
The Dog Faced Hermans
bid bye-bye to any shot at mainstream success early into their career.
Jazz, folk, funk, punk, post-punk –- you name the genre, The Dog Faced Hermans wove a thread of it into their music. However, the group made forays into the world of No Wave more than anything else. They also bought into that movement's ethos during their shows, approaching gigs with a this-is-performance-art-as-much-as-its-music attitude. For example, vocalist
Marion Coutts
(now an
artist
) was known for her distinctive on-stage poses and gestures, trumpet gripped firmly in hand.
The band's fifth album,
Hum Of Life,
conjures up the atonal ghosts of
Lizzy Mercier Descloux's
"Wawa,"
Teenage Jesus And The Jerks'
"The Closet," and
The Contortions'
"Designed To Kill." The dissonant yet danceable rhythms, the gusts of horn, the abrasive guitar parts -- it's all there.
Hear it for yourself.
Download:
"How We Connect" by The Dog Faced Hermans.
Coutts' lyrics were once described as being "emotional but never sentimental" and it was never more evident here. "I hover, you stutter/We miss, and crash," she laments. "The mystery lies in the space between us."