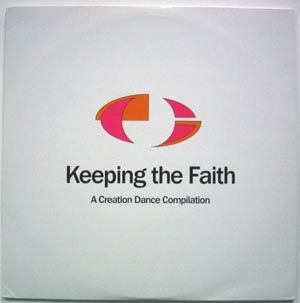 By 1990,
Creation Records
was leading a double life. Still churning out the guitar music that had become the backbone of its catalogue, the label was now dabbling in
acid house
as well. The releases from this year show the dichotomy: the landmark, indie-meets-dance "Loaded" by
Primal Scream,
which hit record shops in February of that year; EPs from shoegazer standouts
My Bloody Valentine
and
Ride,
which both arrived in April.
For months,
Alan McGee
had dug just the
E
part of
rave culture
; now he had finally become keen on the dance component. Naturally, his burgeoning fascination with this scene carried over to his record label.
According to
David Cavanaugh's My Magpie Eyes Are Hungry For The Prize,
there were initial plans to create a spin-off label to release any and all dance-related music. But that was shelved on account of McGee wanting to maintain Creation's all-encompassing status: how the label could issue a single by an artist as esoteric as
Momus,
then follow that up with a release by a one-off hoot such as
Baby Amphetamine.
Sheer Taft, a good chum of Primal Scream's, joined other similar-sounding acts such as
Fluke
and
Sound Of Shoom
in getting the Creation treatment. The track highlighted here was featured on one of the label's dance compilations,
Keeping The Faith.
Hear it for yourself.
Download:
"Cascades" by Sheer Taft.