The C86 anniversary celebrations continue. Huzzah, huzzah! Just learned that two more gigs related to the genre are slated for next week. And, unlike the L.A. and San Fran shows I mentioned in my last entry, I will be attending these with bells on.
On Oct. 27 and 28, the Institute of Contemporary Arts in London will be holding back-to-back events celebrating 80s indie pop. From the ICA's web site: "Through the endeavours of the three of the most influential independent record labels of the last decade -- Heavenly, Rough Trade (Shops), and Domino –- we celebrate the legacy of C86 with live concerts, film screenings, and an exhibition of paraphernalia at its original birthplace, London's Institute of Contemporary Arts."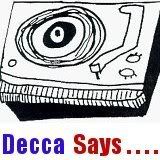 The Friday show will feature The Magic Numbers, Gokart Mozart, and Vic Godard & the Subway Sect. Can't say enough good things about the latter act; I will be there nodding my head, fizzy drink in hand, hoping against hope for ole Vic to belt out a particularly rousing version of "Parallel Lines." All the information for that night can be found
here.
The next night will be twice as nice: Roddy Frame, The Wolfhounds, and (gasp!) Phil Wilson. Legends all of them. I can only hope Mr. Wilson plays a healthy amount of June Brides' tunes; of course, his solo stuff is ravishing, too. The information for that particular night is
here.
The price for each show is £22.50, but it will be money well spent.
"Skyscrapers" by The Wolfhounds
"Better Days" by Phil Wilson
"Pillar To Post" by Aztec Camera