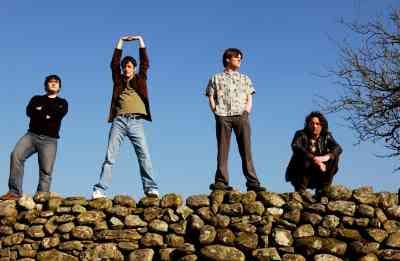 Next to the muddy waters of Glasgow's River Cart lies
Castlemilk.
There, back in the 1960s, the Glasgow Coporation created
tower blocks
to accommodate people from inner city slums such as the
Gorbals,
known for many years as "the most dangerous place in the U.K." The scheme failed, however, as over the decades Castlemilk became much like the area it was designed to replace: crime-ridden, destitute, ripe with everyday ennui; adults on the dole and gangs of teenaged "Cassies" brandishing knives.
From Castlemilk emerged
Cosmic Rough Riders.
Listen to a bit of their music, though, and you wouldn't know it. You'll wonder how a tiny patch of Glasgow brimming with despair and hopelessness can produce a group channeling the sun-dappled, California spirit of 60s artists like
The Byrds
and
Crosby, Stills & Nash.
According to band member Gary Cuthbert, Glaswegian acts with the same sunny disposition as the Cosmic Rough Riders are not uncommon. "Glasgow is a haven for happy 60s music," Cuthbert said in an
interview.
"It probably comes from country music. If you go to karaoke in Glasgow, you'll always see old women singing
Patsy Cline
songs."
Hear it for yourself.
Download:
"Glastonbury Revisited" by Cosmic Rough Riders.
The song was originally featured on Cosmic Rough Riders' 1999 debut album,
Deliverance,
which was recorded at C-Sharp, the community recording studio in Castlemilk. Then song was later re-released on
Enjoy The Melodic Sunshine
after the band signed a license deal with
Poptones Records,
the newly-formed label of
ex-Creation Records
head
Alan McGee.