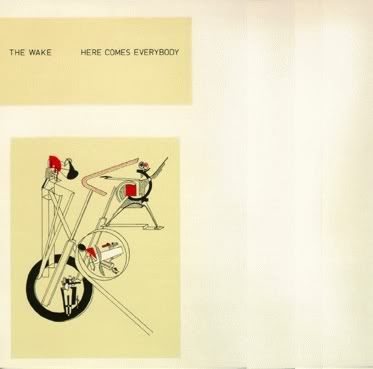 The Wake
hold the distinction of being the first Scottish act signed to
Factory Records.
(And one of only two overall, as far as we know;
The Wendys
inked a deal in 1990.)
The
Glasgow
foursome joined
Tony Wilson's
label in 1982, with their first Factory release coming in September of that year: the album
Harmony
(FAC 60 for those of you scoring at home). The Wake then cut three singles, as well as a second LP (
Here Comes Everybody
in November of 1985), before ultimately jumping to
Sarah Records.
There, the group did two more singles and two more LPs. Sarah then called it quits in 1995 and The Wake did the same shortly thereafter.
Widely regarded as one of Factory's most overlooked acts, even though it received the re-issue treatment in 2002, The Wake initially traveled along the same shadowy path as bands such as
Joy Division
and
Bauhaus.
But as their tenure at Factory wound down, the band's approach changed: wait out the night, embrace the dawn. The Wake began incorporating lighter tones, taking a more winsome approach. On Sarah, the four-piece act all but shelved the post-punk dirge for cheery pop sensibilities.
Hear it for yourself.
Download:
"Sail Through" by The Wake.
Swathed in
ARP Quadra synth
and featuring a looping bassline, it's pre-twee Wake at its finest.