The four-week-long
Tigerfest
comes to a close Saturday evening -- and at the venue where it officially kicked off back on April 27: The Swamp Bar in
Edinburgh.
By all accounts, the festival was a rousing success: an eclectic blend of upcoming and established bands, terrific live performances, raucous crowds, even a fond farewell to some indie legends, as
Fire Engines
played their last-ever show May 13 at Carnegie Hall in
Dunfermline.
One of Tigerfest's final gigs will be going down May 24 at Henry's Cellar Bar in Edinburgh. On that night,
Hobotalk
will be taking the stage for its second Tigerfest appearance (they supported
ballboy
last August). Hobotalk, for the uninitiated, is a folk-pop outfit headed by singer/songwriter Marc Pilley. The band was shortlisted for the
Mercury Music Prize
nominations back in 2001 for its debut album,
Beauty In Madness.
However, a fallout with its label,
Hut Records,
waylaid Hobotalk a tad and helped squash any momentum the foursome had garnered.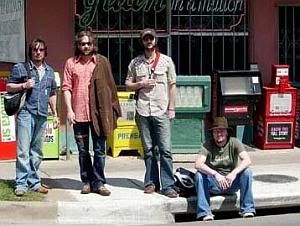 The group didn't release a follow-up until last year's
Notes On Sunset.
Like its predecessor, the LP is chock full of intimate, introspective numbers, which showcase Pilley's unforgettable pipes –- pipes that have been described as coming from the "illegitimate lovechild of
Joni Mitchell
and
Thom Yorke.
"
Hear it for yourself.
Download:
"Letter From A Friend" by Hobotalk.
"These California sunsets don't mean shit when you're upset inside," Pilley intones over a lush backdrop driven by a twinkling piano line and a strummed guitar.