The drummer, Alan Tilston, wore a Native American headdress on
"Top Of The Pops."
Keyboardist Ken McAlpine, he of the peroxide blonde hair, allegedly got in trouble with the fuzz for stealing a drump truck from a building site. The group also released a pair of EPs on their own label, cleverly dubbed OFL (yes, as in offal).
The Supernaturals
were a tad flakey, sure, but the
Glasgow
quintet certainly did take its recording career seriously, churning out three albums and four EPs of bouncy guitar pop during its short lifespan.
Instead, the group's noted penchant for silliness spilled over into its lyrics, which were frequently of the whimsical and witty kind. A prime example is "Lazy Lover," a single off the band's album debut on
Food,
1997's
It Doesn't Matter Anymore.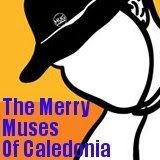 In this track, singer James McColl details his utter indolence, confessing that his loafer lifestyle has even affected his (gasp!) performances in the bedroom: "I'm her lover/Her lazy, lazy lover/I can't be bothered getting into bed/I'm her lover/Her lazy, lazy lover/I'd much rather do it in my head." Rock sex-god posturing this is not.
Hear it for yourself.
Download:
"Smile"
and
"Lazy Lover"
by The Supernaturals.