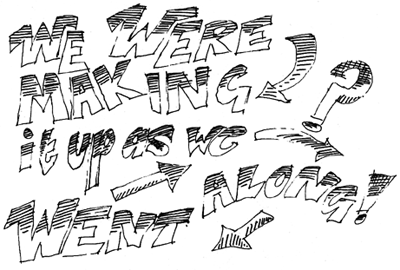 I was just five when
Orange Juice
ushered in the short-lived Sound of Young Scotland scene with the release of their debut single, "Falling and Laughing." Too concerned with
Mr. Green Jeans
and
"Battle of the Planets,"
I couldn't point out
Glasgow
on the multi-colored globe sitting in my bedroom. Orange Juice was something I washed down my
Theo-Dur
with every morning and
Fire Engines
were what my neighbor, Mr. Gaffney, drove for a living.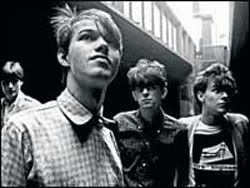 Everything I've since learned about that scene I've gleaned from books, music publications, and various sites on the Internet. All have countless photos to offer, whether it's of the concert or candid variety, and while it's terrific to see a bootlace tie-wearing Roddy (left) or a fresh-faced Edwyn (above), there's nothing quite as telling or captivating as video. Unfortunately, discovering footage from this bygone era was difficult, not on account of it necessarily being rare, but because there was no proper outlet for widely distributing it.
Until
YouTube.com
came along, that is. The California-based web site is, as a
recent newspaper article
succinctly put it, "Capitalising on society's shortening attention span and growing exhibitionism to establish itself as a window into popular culture." Four months ago, users were posting 8,000 videos a day and viewing roughly three million. Today, those numbers have jumped to 35,000 posted videos a day and over 35 million watched.
Separating the chaff (typically created and posted by today's bright and imaginative teenagers) from the wheat may take a little time, but it's worth it. Here are a few must-sees I unearthed, all from those heavenly music days close to three decades ago.
See it for yourself.
"Blue Boy" by Orange Juice.
Clips and pics of
Edwyn Collins
mixed with lasses who look like extras from a
Robert Palmer
video.
"Sorry For Laughing" by Josef K.
Rates about a 10 on the weird scale, thanks to the gelatinous green substance featured throughout and Paul Haig dry-humping the torso of a life-sized doll.
"Walk Out To Winter" by Aztec Camera.
Decked out in shades, Roddy Frame and his crew perform on the BBC's long-running
"Old Grey Whistle Test."