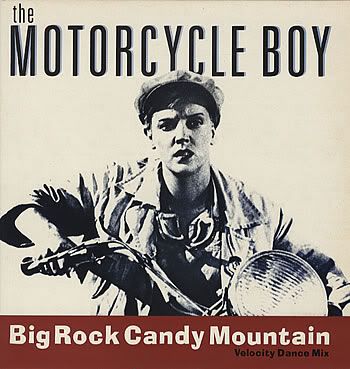 In
Frances Ford Coppola's
adaptation of
Rumble Fish,
the character dubbed The Motorcycle Boy, played by B-list beefcake
Mickey Rourke,
tells us, "If you're going to lead people, you have to have somewhere to go."
You listening,
Alex Taylor
and Eddie Connelly? Okay, that's a tad harsh, laying the onus for
Motorcycle Boy's
relative demise upon the romantically linked couple that helped create the band. But one can't help but wonder how things would have played out had the group possessed more direction . . .
Motorcycle Boy came together in 1987, when Taylor -- ex-lead singer for
Shop Assistants
-- hooked up with bassist boyfriend Connelly, as well as Connelly's mates from
Meat Whiplash:
guitarist Michael Kerr and drummer Paul McDermott. Guitarist David Scott completed the quartet.
The group had an auspicious start: They scored a No. 3 hit on the UK indie charts with their debut single,
"Big Rock Candy Mountain,"
nabbed a much coveted spot opening for
The Jesus And Mary Chain
on tour, and were frequently lauded in the weekly music papers. Unfortunately, they had already peaked; over time, general disorganization among their ranks led to an eventual break-up. At one point, Taylor and Connelly attempted to solider on just the two of them, even venturing down a new road and converting the band's sound from rock to dance, but that failed.
Hear it for yourself.
Download:
"Big Rock Candy Mountain" by Motorcycle Boy.