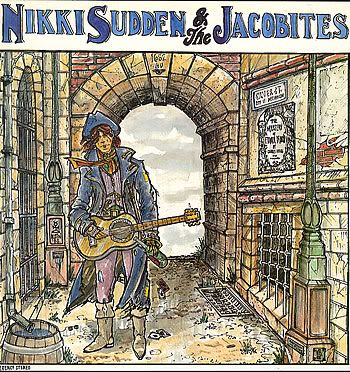 He wanted to do a tour of just the European principalities. He penned the ditty "Death Is Hanging Over Me" while watching the film
Amadeus
in a
Hamburg
cinema with his then girlfriend. He loved velvet jackets, yet despised crushed velvet.
His favorite song was "Telegram Sam" by
T. Rex.
His birth name was Nicholas Godfrey. He confessed that his initial reason for delving into songwriting was: He couldn't play anything by anyone else. He worked with members of
The Waterboys,
The Birthday Party,
and
R.E.M.
He once told a music writer, "I dress and act like a star because I am one -- even if only in the eyes of a few." He spent years working on an unpublished novel entitled
Albion Sunrise
and wrote the liner notes for all his re-issues. The German music press often referred to him as the "the god of underdogs."
He died on March 26 of this year. He was
Nikki Sudden.
Hear them for yourself.
Download:
CRE 033: Nikki Sudden - "Jangle Town," (7"+12"), 1986
CRE 040: Nikki Sudden - "Wedding Hotel," (12"), 1987