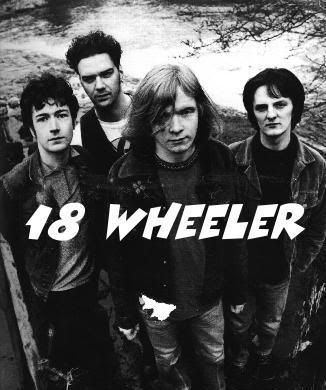 We're probably up around the five million mark now in terms of how many times the McGee-discovers-Oasis-at-King-Tut's story has been told. Maybe that's why the details have become so fuzzy.
The
Creation Records
head was attending a May 31, 1993, gig at Glasgow's
King Tut's Wah Wah Hut
to hook up with a friend of his sister's. No, he was in attendance to surprise old chum Debbie Turner, who was a member of one of the three supporting acts, Sister Lovers (a band that shared rehearsal space with
Oasis
). Maybe he was there to check out one of his signed acts, who were headlining.
That
act would be
18 Wheeler,
a guitar pop quartet from
Glasgow.
One can't help but wonder if
McGee
even heard the band's set that renowned night, seeing how smitten he immediately was with Oasis -– particularly
Liam Gallagher,
on account of his aloofness, cocksuredness . . . . and
Paul Weller haircut.
Pished silly on Jack-and-Cokes, McGee is even alleged to have offered the Mancs a contract on the spot. Again, fuzzy details.
The track featured below is off 18 Wheeler's third and final LP,
Year Zero.
After being criticized for sounding too much like their influences (
Big Star,
The Beach Boys,
Gram Parsons
), including some harsh words from
Noel Gallagher
(rather ironic, eh?), 18 Wheeler decided to revamp its sound; it moved away from the charming guitar leanings of its earlier efforts and incorporated dance rhythms.
And a poor decision it proved to be as the group was dropped by Creation shortly afterwards.
Hear it for yourself.
Download:
"Stay" by 18 Wheeler.