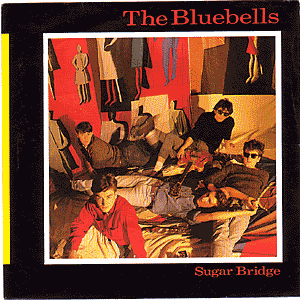 Beatles-
inspired Scots doing an Irish folk tune with republican overtones. Doesn't sound like a winning recipe, now does it?
Surprisingly, it was. In 1983,
The Bluebells
released the song
"Sugar Bridge."
The single's b-side was an Irish ballad penned by
Dominic Behan
(though his older, more famous
brother
is often
erroneously named
as the writer). The song's narrative is from the point of 17-year-old
Fergal O'Hanlon,
who -- along with Sean South -- was killed on an attempt to storm a police station in County Fermanagh during the
IRA's
ill-fated
border campaign.
Behan was a family friend of Ken and David McCluskey, The Bluebells' singer and drummer, respectively. The track's inclusion in The Bluebells' catalog, which featured its share of power pop numbers, was no surprise to those who knew the McCluskeys well. The siblings harbored a deep love for folk music and after The Bluebells had called it quits, they dedicated themselves to this genre
fulltime.
(Growing up during the folk-rich late 50s and early 60s, the brothers also likely heard covers of this tune by
The Kingston Trio
and
The Clancy Brothers,
as well as
Bob Dylan's
reworked version.
)
An interesting side note: Behan was quite displeased with The Clancy Brothers' version, which excluded a verse criticizing President Eamon de Valera. Leaving out the lines, according to Behan, took away some of the song's political punch. The Bluebells didn't sing the verse, as well.
Hear it for yourself.
Download:
"The Patriot Game" by The Bluebells.