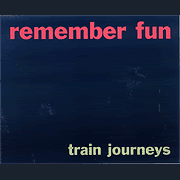 Before he partnered with gal pal Clare Ward to form the seminal
Sarah Records,
Matt Haynes
authored a popular fanzine entitled, Are You Scared To Get Happy? The zine's stellar prose was described as being evocative, yet ethereal, as Haynes often tackled the hot-button issues of the day (such as the growing commercialism within the U.K. indie scene) with beautifully written aplomb.
Remember Fun,
a band Haynes was quite familiar with, took the same approach: mix the sweet with the scathing. During the late 1980s, the
Glasgow
-based band became known for their lovely, shimmering guitar pop and the way it contrasted nicely with their biting, socially charged lyrics.
The group's first single came about thanks to Haynes, who released it on his pre-Sarah
Sha-la-la
label. According to Haynes, the goal was to be "anti the status quo," so all releases on Sha-la-la were of the seven-inch, flexi disc variety, with each record featuring two different bands. Remember Fun's "Hey Hey Hate" was released in 1987, with
Emily's
"The Old Stone Bridge" on the flip side.
Two more song releases then followed: "Clearly Blurred" on an Airspace charity LP later that year; then "Cold Inside" on
Egg Records'
A Lighthouse In The Desert
compilation, which was released in November of 1989.
In 2001,
Matinee Recordings
stepped up and re-issued some of Remember Fun's catalog. The four-song
Trains Journey
EP can be purchased
here.
The music calls to mind contemporaries such as
The Close Lobsters,
as well as latter-day Scottish groups like
The Trash Can Sinatras.
Hear it for yourself.
Download:
"Clearly Blurred" by Remember Fun.