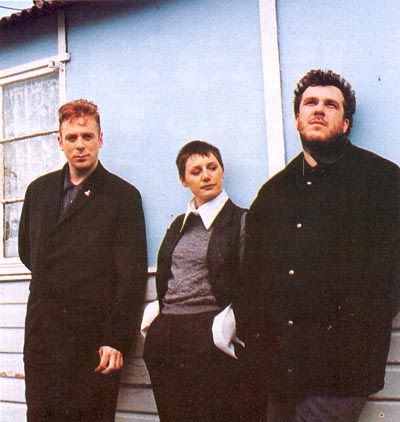 Dance Chapter
has secured a spot in the annals of pop music history, but not on account of any material they produced. According to stories,
Ivo Watts-Russell
-- the founder of the label Dance Chapter was signed to,
4AD
-- had just wrapped up a particularly arduous recording session with the band. As Watts-Russell made the trek from Cambridge's
Spaceward Studios
back to London, he popped in a demo tape from a Scottish outfit named
Cocteau Twins.
Almost immediately, the label head was taken by Robin Guthrie's glistening guitar parts.
Watts-Russell invited the Grangemouth trio (Guthrie, vocalist Elizabeth Fraser, and pre-
Lowlife
bassist Will Heggie) down to London's Blackwing studio to cut a single. But after hearing the results, the tracks "Speak No Evil" and "Perhaps Some Other Aeon," Watts-Russell came to the conclusion that a single just wouldn't suffice. No, not with a band featuring Fraser's prodigious vocal talents. (After hearing Cocteau Twins' second album,
Treasure,
a music critic would describe Fraser as possessing "the voice of God.") Cocteau Twins were then brought back to the studio to record a debut LP.
The most interesting part of this story? The amount of time that passed from the day the band mailed their demo tape to the day they began recording an album was just nine days. And certainly that's a testament to the group's inimitable sound, even though it was still in its embryonic stages.
Hear it for yourself.
Download:
"Dear Heart" by Cocteau Twins.
In January of 1983, the band did their second
session
with
John Peel
(the first coming right before the debut,
Garlands,
was released in June of 1982). This track was one of four they performed that day, and it later appeared on a 1988 re-issue of the album. The song's sound "discerns a frosting of sweetness," while the vocals are every bit ethereal. (Can't write about Cocteau Twins without using
that
word, now can we?)