If it feels like I keep coming back to
Egg Records,
it's because, well, I do. The tiny,
Glasgow
record label has given pop fans quite a few glittering gems -- both during its short, three-year run from 1988 to 1991 and today, as part of its restoration program.
The Hardy Boys,
who hail from
Greenock,
are one of a handful of acts getting the re-issue treatment. According to the band's rather terse biography on Egg's web site, the mainstays of The Hardy Boys' lineup were two lads named Johnny White and Mike. The group did some gigs around the UK and once recorded at Shabby Road Studios in
Kilmarnock,
the former recording haunt -- and living quarters -- for
Trashcan Sinatras.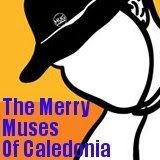 The Hardy Boys had just four official releases: 1987's "Wonderful Lie," a four-song EP on Stella Five Records; the track "15" on a cassette compilation known as
Red Roses For Me
(a comp I've unearthed nothing about, though I have managed to track down the song itself); a 2004 "Wonderful Lie" re-release on Japan's
Excellent Records
; and 2005's
"Let The World Smother You,"
which was initially set to be an EP on Egg in '91, but the label going belly-up prevented this from happening.
Hear it for yourself.
Download:
"Let The World Smother You"
by The Hardy Boys.