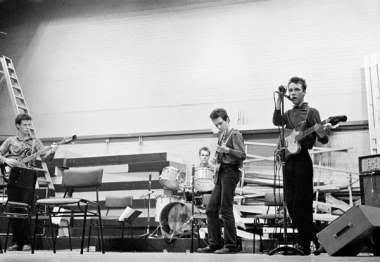 So they called it quits back in May. Again. Only this time, they assure us, it's for good. What a shame.
After 23 years apart,
Edinburgh's
Fire Engines
reformed in 2004, mainly on account of an offer to support artists they've long revered, the one-time
Beefheart
-led
The Magic Band.
However, the reunion proved to be more than just a simple one-off, as Fire Engines stuck around to pursue such endeavors as recording a limited edition collaboration single with
Franz Ferdinand
and performing at the
Triptych Festival.
Ironically, enough Fire Engines' much lauded comeback stretched longer than its original incarnation in the early 1980s.
In May, however, the group called it quits a second time, playing its final gig at Carnegie Hall,
Dunfermline,
on May 13 as part of the annual
Tigerfest
concert series. "We're hanging up the hose," is how frontman Davy Henderson so eloquently put it.
Hear it for yourself.
Download:
"Candyskin" by Fire Engines.
Okay, so as any true Fire Engines zealot knows, "Candyskin" is not indicative of the group's frenetic and jagged sound, thanks to the track's shiny pop ambitions (hinting towards Henderson's later outfit,
Win
). But I'll never grow tired of those strings. So catchy and kitschy.