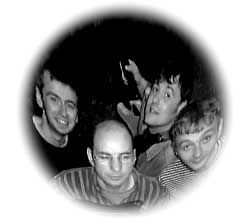 Joe Foster
once said, "I was a drug addict . . . A well educated and articulate one, but one nonetheless." He was describing his hazy and halcyon days spent at
Creation Records.
While employed for Creation, Foster started up the
Rev-ola
subsidiary, which today, dabbles in album re-issues.
The always articulate and educated Foster has made certain Rev-Ola reflects his catholic tastes, as the label has released material from former Creation acts such as
Slaughter Joe
and
The Jazz Butcher,
as well as everything from calypso by
Maya Angelou
to legendary blues standards by
Leadbelly
to pre-superstar
Buddy Holly.
Edinburgh's
The Thanes
were never members of the Creation cabal, but the band, like many on Rev-Ola, has influenced its share of modern day acts, particularly those of the garage rock variety. Fronted by indie busyman
Lenny Helsing,
The Thanes officially came together in 1986. Two decades later, the act is still churning out its trademark, 60s-style, organ-driven melodies.
Hear it for yourself.
Download:
"No Need To Worry" by The Thanes.