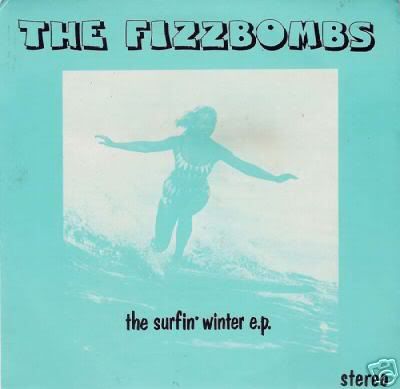 "If you weren't in at least two different bands," vocalist Andrew Tully once said, "something was wrong."
Such was the state of
Edinburgh's
music scene in the mid- to late-1980s: incestous and chaotic. (Tully, for example, was in both
Rote Kapelle
and
Jesse Garon And The Desperadoes.
) Vinyl, instruments, and ideas were frequently exchanged. Lineups morphed, as members departed to spawn their own bands, only to return soon after. Regular gigs were a rare occurence, so schedule conflicts were hardly a concern.
Of those acts,
The Fizzbombs
ranked at the bottom of the Edinburgh music food chain, below the influential, white-noise popsters
Shop Assistants
and the
Rough Trade-aspiring
Jesse Garon And The Desperadoes. (Three members of The Fizzbombs were previously in the latter group.)
The low standing is on account of The Fizzbombs cutting just two releases: the single "Sign On The Line" and
The Surfin' Winter EP,
which showcased the group's affinity for surf rock. Included on that EP is a thick, fuzzy cover of
Neil Diamond's
"Cherry, Cherry."
Hear it for yourself.
Download:
"Cherry, Cherry" by The Fizzbombs.