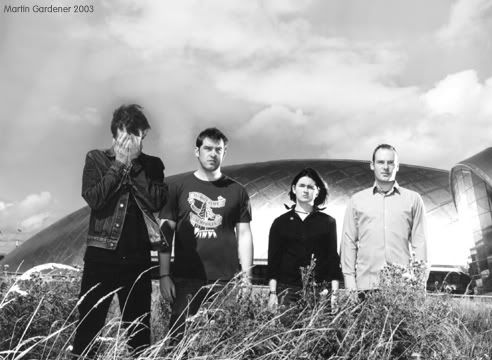 The Beatles
were broadcasting hippie optimism to 350 millions folks worldwide when they performed the tune "All You Need Is Love" during the
"Our World"
special.
The Delgados
? Well, they certainly weren't reaching the same vast audience, but their message was just as powerful and immediate: All you need is
hate.
Of course, much like The Beatles' number, this little pastiche is done with a smidge of humor (an element of the song oblivious to most Beatles zealots, methinks). With "All You Need Is Hate," lines such as "I believe it's better to inflict than to attempt relief" and Hate is everywhere/Inside your mother's heart and you will find it there" are particularly dispiriting, sure, hinting at a dystopia that perfectly contrasts The Beatles' utopia, but the track's sunny backdrops burn away a fair bit of the grey clouds.
With
Dave Fridmann
(known for his production work with
The Flaming Lips
) on board to produce, the music is grandiose, soaring, flippantly pompous. "All You Need Is Hate" manages to achieve the same sweeping anthem status as The Beatles' number, only with far more thorny subject matter -- a feat more impressive, to say the least.
"It was an inspired song and they really wanted to give the world a message,"
Brian Epstein
once said when discussing "All You Need Is Love. "The nice thing about it is that it cannot be misinterpreted." Let's pretend he was discussing The Delgados' tune as well.
Hear it for yourself.
Download:
"All You Need Is Hate" by The Delgados.