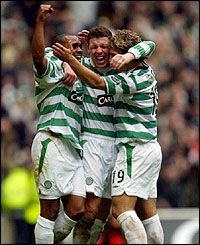 Ah,
The Tones.
Banned on
Radio Eireann,
banned on
Aer Lingus
flights (thank-you,
Roy Beggs, Jr.
), banned at
Celtic Park.
The last banning came as a result of the song "Celtic Symphony." Written in 1987 in honor of
Glasgow Celtic's
100th anniversary, the tune honors the Bhoys' victory in the 1967 European Cup over
Inter Milan.
Nicknamed
The Lisbon Lions,
they were the first British squad to be crowned European champions.
Besides honoring the team's achivements, the song does feature the controversial (though catchy) chorus of, "Oh ah, up the 'RA/Say, oh ah up the 'RA." And it was this, learned The Wolfe Tones -- always ones to inject a bit of politics into their infectious brand of Irish folk -- that ultimately led to "Celtic Symphony" being summarily banned at Celtic Park.
Here,
Brian staunchly defended the song to Celtic, but it was to no avail.
So . . . Where does all this fit within the confines of a Scottish pop music blog? It doesn't. I'm attending tonight's Celtic match against the
New England Revolution
and merely wanted to upload the track. Turn it up and sing along.
Hear it for yourself.
Download:
"Celtic Symphony" by The Wolfe Tones.