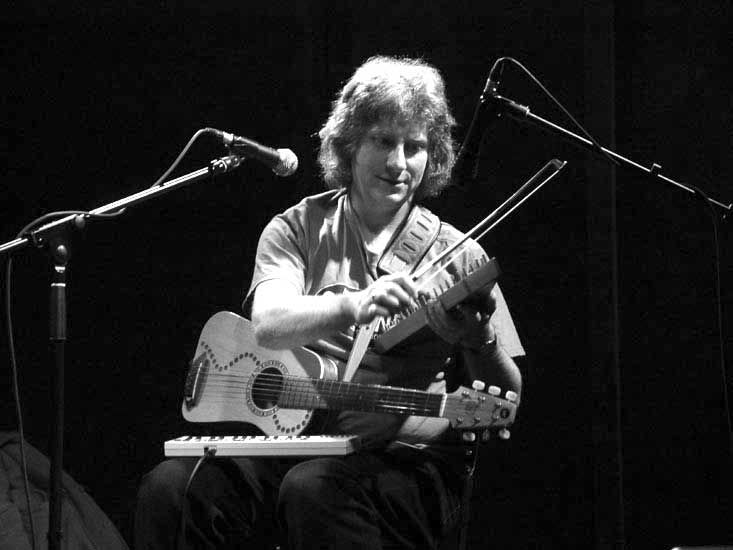 Alan Davidson was 12 years, and 20 LPs, 7-inches, cassettes, and CDs into his music career before he finally played a live gig back in 2002. So what finally prompted Davidson, who performs and records under the name
The Kitchen Cynics,
to finally hit the stage for the first time?
"The only reason I'm playing live is drink!" he joked in
this interview.
"I got somewhat inebriated at Terrastock 5 in Boston, where
Tom Rapp
kindly asked me to sing a verse of 'Another Time' with him."
Since then, Davidson's gig list (and lager habit; kidding, kidding) has grown significantly. He's supported
The Iditarod,
Charlemagne,
and
The Incredible String Band.
Most of Davidson's shows take place in his hometown of
Aberdeen,
but he has made the occasional foray outside the city limits: doing a set at
Nozstock
in
Bromyard,
performing at a
Nick Drake
tribute weekend in
Tanworth-in-Arden,
and playing on a radio show with
Irene Trudel
in
New York.
As for Davidson's music . . . . "His songs combine ancient folk roots with a lo-fi psychedelic aesthetic that effectively blurs the line between Syd Barrett and Pearls Before Swine," wrote critic George Parsons. With The Kitchen Cynics, it's all about light and shade: Gentle, breezy guitars and hushed vocals thinly veiling a world of bitterness and despair. Strongly recommended.
Hear it for yourself
Download:
"Jennifer Is There Anywhere?" by The Kitchen Cynics,
a track from the album
Seagul Girls.