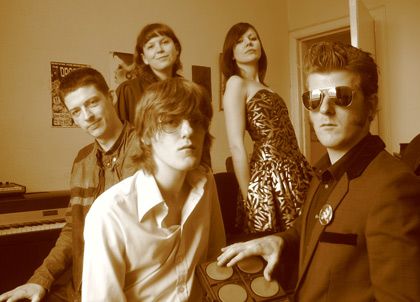 Aberfeldy
drew a plethora of
Belle And Sebastian
comparisons following the release of its 2004 debut,
Young Forever.
Musically, Aberfeldy sauntered down its own path (
glockenspiel!
), yet lyrically, the connections were apt, as Riley Briggs's tender, affecting words often called to mind the work of
Stuart Murdoch.
More B&S comparisons are certain to flow from the ink-stained and Internet wretches now that Aberfeldy has released its follow-up,
Do Whatever Turns You on.
Here, the band leaps feet first into jubilant, 70s-inspired pop, much like Murdoch and company did upon their release earlier this year,
The Life Pursuit.
Young Forever
caused a bit of a stir in indie circles on account of the
way it was recorded.
For its second LP, Aberfeldy ditched the retro approach and went with a bigger budget and a bigger sound, hiring Callum Malcom (
The Blue Nile
) to produce. And while
Do Whatever Turns You On
does lack the warmth and intimacy of its predecessor, it does firmly establish Briggs as one of Scotland's more unique voices.
Hear it for yourself.
Download:
"Up Tight" by Aberfeldy.