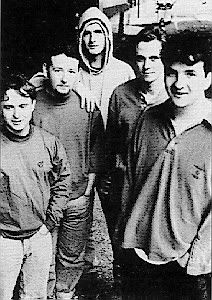 "Damn it, let's get the band back together!" is a common sentiment heard from those dearly departed acts which once achieved a modicum of success in the music industry. When really, the phrase should be, "
Why
get the band back together?"
Quite often, of course, the reasons are rooted in the onerous desire to make oodles and oodles of cash. In the case of
The Orchids,
however, the reasons are different . . . particularly since The Orchids never made oodles and oodles of cash. So why an Act II then?
Well, there's that nagging sense of unfinished business, particularly when said band called it quits following what many consider to be their
crowning achievement.
There's also that arrogant desire to show folks music can be more titillating than today's standard refuse. Or something like that.
At any rate, The Orchids are back in business and quite busy to boot. The
Glasgow
outfit released a new single, "Another Saturday Night," which appears on the two-disc compilation
Little Darla Has A Treat For You, Volume 24: Endless Summer.
They're also working on a new album, entitled
Good To Be A Stranger
, which is due for release this fall.
The new music is The Orchids' first in a decade. The group, influenced heavily by the wave of Scottish pop bands that came directly before them (
Orange Juice,
Aztec Camera,
jangly
Primal Scream
), were mainstays on
Sarah Records,
releasing what was the label's first full-length in 1989:
Lyceum.
Two more LPs followed -- the follow-up,
Unholy Soul
and the inspired yet capricious
Striving For The Lazy Perfection
-- before the curtain closed on the first part of their career.
Hear it for yourself.
"Hold On" by The Orchids.
Listen to the ache and desperation in James Hackett's voice. I want to give the lad a big hug.