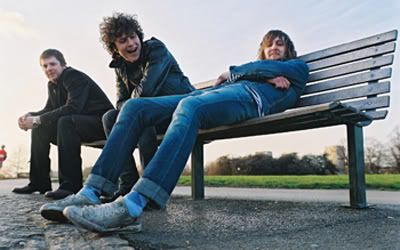 "So Mince was a stoner, Barry was a car thief, and Jon was just a jon . . . . " (It's no "once upon a time," but I suppose it works.)
And thus begins the story of
The Fratellis,
one of
Glasgow's
most ballyhooed up-and-coming bands. The trio (Mince, Barry, and Jon Fratelli -- how
Ramones
) came together last year, playing their first gig in March of 2005 at O'Henry's Bar in Glasgow. Since then, they've supported
Black Rebel Motorcycle Club
and
Evan Dando,
made an appearence on
"Top Of The Pops,"
and worked with noted producer Owen Morris (
Oasis'
Definitely Maybe
and
(What's The Story) Morning Glory?
) on their
eponymous EP,
which was released this past April.
Dabbling in fast-paced, guitar-drenched rock, The Fratellis -- who are playing the Futures stage at
T In The Park
Sunday -- cite everything from baggy
Madchester
tunes to
NOFX
to
Bob Dylan
as influences. On stage, their live performances have been lauded as nothing short of fiery and emphatic -- three daft lads with the combined energy of a fission bomb.
"Follow them size five's,"
Mama Fratelli
once said. Hopefully, fans will be following the path The Fratellis make for many albums to come.
Hear it for yourself.
Download:
"Stacie Anne" by The Fratellis.