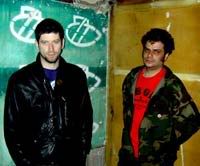 Optimo's
Twitch on his infatuation with
Throbbing Gristle
: "What they had to say," he wrote on the group's web site, "how they presented it, how they made one question and challenge things and most importantly, how they sounded had a profound impact on me."
So it was no shock to see a TG tune on the last full-length from
Glasgow's
Optimo: 2005's
Psyche Out,
a hypnotic, psychedelia-themed compilation of DJ mixes -- "head music that doesn't forget the body," as it was described.
The aforementioned TG song is "Hot On The Heels Of Love," from the group's
20 Jazz Funk Greats.
That album's
industrial
-meets-
synthpop
aesthetic was clearly evident in "Hot On The Heels Of Love": noise absorbed from TG's
Sheffield
environment and regurgitated onto tape (whip-like cracks, a melody thats reminds one of air being slowly released from a balloon, blasts of sound that could be from a
Yorkshire
steelmaking plant), and then deftly blended with mesmerizing beats.
"Hot On The Heels of Love" calls to a mind a libidinous, indoor game of hide-and-seek -- the interminent, breathy vocals serving as the hider's "You're getting hotter/colder" hints. The version on Optimo's
Psyche Out
sounds like it was given a tablet of
Bremelanotide
by top Detroit techno producer
Carl Craig.
The music throbs, swells, threatens to burst. The stakes have been raised in that game of hide-and-seek: the seeker now blindfolded, the hider wearing nary a stitch, "gools" a bed with tousled sheets.
Hear it for yourself.
Download:
"Hot On The Heels Of Love (Carl Craig Re-Version).
Optimo -- who founded Scotland's first techno club (Pure, which ran for a decade) -- will be performing Sunday at T In The Park's Slam Tent.