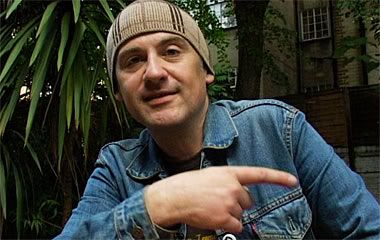 Like the floppy-haired
Bryan Adams
once crooned, "Please forgive me." (And please, forgive me for that lede, as well).
This will be my third straight post (and fourth out of the last five) that will not focus on a Scottish band. I was all set to offer up a track from the inimitable
Jesse Garon And The Desperadoes,
but shelved that entry at the last second. (Don't fret: The
Edinburgh
popsters will be making an appearance tomorrow.)
Instead, I wanted to pratter on about one of my most beloved songwriters, who's divulged some rather candid personal information courtesy of his
blog.
Dan Treacy
-- part-time punk, full-time indie deity -- revealed in a April 27 post that he's been diagnosed with multiple sclerosis and thrombosis, and that he will ultimately need a liver transplant.
A month later, Dan expounded on his health a bit, lamenting:
go away and leave me to my steroids and hardcore painkillers/
when i wanted drugs i couldnt get em..now i dont ,i am fucking force fed..
This is tragic news for a man who had just returned to the indie limelight, thanks to the February release of the first new
Television Personalities
album in over a decade:
My Dark Places.
Yes, the year had started so promising (read the entries from January, and see how lively and happy he sounds), but then life quickly turned sour, as it so often does for Dan. (Note the other mini-tragedies mentioned in his blog: eviction from his flat, ex-girlfriend troubles,
Domino
not paying for a new passport so he can tour. This poor old sod just can't win.)
Here's hoping things turn around for Dan.
Hear them for yourself.
Download three tracks from
They Could Have Been Bigger Than The Beatles:
"David Hockney's Diary,"
"Painter Man,"
and
"When Emily Cries."