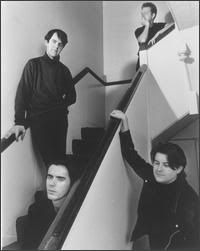 We could fill this space with any one of a thousand
Alan McGee
/
Biff Bang Pow!
stories. For no real reason whatsoever, we've selected the narrative detailing the band's 1988 tour in
France
(lovingly retold to David Cavanagh for his
Creation Records
tome
).
It's February, and Biff Bang Pow! (always just a "hobby," according to McGee, despite churning out
six albums
) are in the midst of a four-week excursion with Creation labelmates
Momus.
The second week of this little journey finds the artists in
Toulouse.
A row breaks out following the Biff Bang Pow! set. Turns out the group came up five minutes shy of their contracted 40-minute set. When the gig promoter angrily confronts McGee about this, our ginger-haired, short-tempered hero responds in the only way he knows how: He tosses his drink in the man's face.
McGee and Biff Bang Pow! quit the tour and returned to England soon after.
Momus then summed up the whole tour debacle in a way only Momus can: "When he (McGee) got off the ferry, he was saying: 'Isn't France great? It's so civilized.' By the end of the tour he was very much a
Sun
reader."
Hear it for yourself.
Download:
"There Must Be A Better Life" by Biff Bang Pow!,
which was the seventh single for McGee's Creation Records. This slice of psychedelic nostalgia, grouped with previously released singles by
The Pastels
and
The Jasmine Minks,
showed the label was definitely on its way to becoming a major player in the U.K. indie scene.