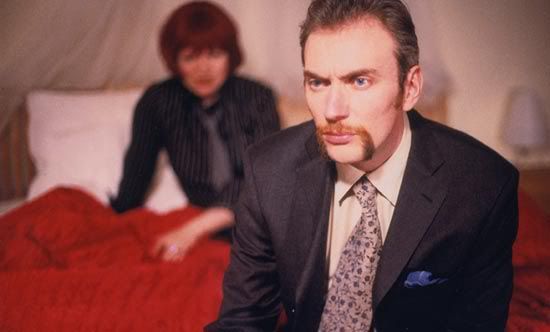 "Basically, for the first six years of the group being together, all I wanted to do was
keep
the group together,"
Belle And Sebastian
frontman Stuart Murdoch once
said.
"And that was enough of a struggle, never mind pleasing the fans."
A struggle indeed, particularly when your band roster runs eight deep. However, as Murdoch knows, departures are inevitable, no matter how diligently one works at keeping individual members assuaged. For Belle And Sebastian, two exits came in the span of two years:
Isobel Campbell
in 2002 (see previous day's post) and Stuart David in 2000, following the completion of
Fold Your Hands Child, You Walk Like A Peasant.
David formed
Looper
in '98 with his wife, Karn, releasing the single "Impossible Things" in the summer of that year. An album,
Up A Tree,
followed in 1999. When David ultimately quit B&S it was to devote more time to Looper, as well as pen the follow-up to his first novel,
Nalda Said.
And while the notion of a musician-cum-novelist is rather unique, even more so is the method in which David has released his songs to the public. For several years now, Looper has made its music available for
free download
on its web site. And it's been able to take this approach because David -- similar to what
Moby
did with his 1999 album
Play
-- licensed his songs for use in movies and television commercials.
Looper's music has appeared in feature films such as
Out Cold
and
The Girl Next Door,
as well as advertising campaigns for
Xerox
and
The Partnership For A Drug-Free America.
Hear it for yourself.
Download:
"Mondo '77" by Looper,
which was featured in the flick
Vanilla Sky.