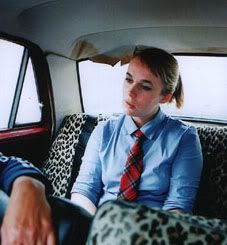 Isobel Campbell's
recording career gives new meaning to the word eclectic.
The Glaswegian kicked off with
Belle And Sebastian,
playing cello (she's classically trained), handling singing duties (her ethereal vocals on "Is It Wicked Not To Care?" may be her best known work), and doing the occasional songwriting (she helped pen the top-20 U.K. single "Legal Man").
On the side, she recorded under the pseudonym The Gentle Waves, and released a pair of LPs and an EP, often traversing the same orchestral, folk-pop ground as B&S. In 2002, Campbell somewhat famously quit Belle And Sebastian in the midst of the group's U.S. tour.
She then decided to explore new territory, putting her penchant for writing simple, honest ditties on the backburner. She partnered with Scottish jazz musician on
Ghost Of Yesterday,
an album featuring
Billie Holiday
covers. (Quick and interesting aside: Campbell first met Wells when his singer for The Beat Room came down with chickenpox and Wells needed a quick replacement).
One year later came
Amorino,
a solo effort described as sounding like the lost soundtrack to a 1960s French film. Campbell then followed that release up with her most inventive to date: this year's
Ballad Of The Broken Seas,
a gruff-meets-gossamer collaboration with
Queens Of The Stone Age's
Mark Lanegan.
Hear it for yourself.
Download:
"Falliing From Grace" by The Gentle Waves.