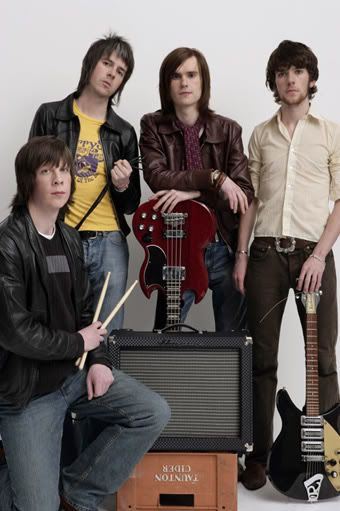 So there was a girl involved. Then again, isn't there always?
Daniel Meade, lead guitarist for
The Ronelles,
said the
Glasgow
outfit received its moniker when his incessant wooing went relatively ignored. "There is a girl that used to work in
The Garage
nightclub that I adored," Meade explained in this
interview.
"I used to leave her tickets to come and see shows, but she never did. She didn't like me."
The lass's name? Ronelle, of course.
And we're guessing the bird would most certainly give Meade the time of day now. In a little over two years, The Ronelles have gone from virtual nobodys to much ballyhooed somebodys, thanks largely to their tireless gigging ethic. The band have supported
Kings Of Leon,
The Dears,
and
The Zutons,
and nabbed themselves a slot at last year's
T In The Park
festival. They also joined
The Proclaimers'
tour of the States for several shows and had their own sell-out, headlining performance at the renowned
King Tut's Wah Wah Hut
in Glasgow.
The Ronelles' blistering, celebrated live set was finally committed to tape earlier this year and released by
Neon Tetra Records
as the LP
Motel.
The track featured below is "Magic Blues," a stomping, infectious ditty that shows The Ronelles are part-time purveyors of the
"Clapton is God"
motif.
Hear it for yourself.
Download:
"Magic Blues" by The Ronelles.