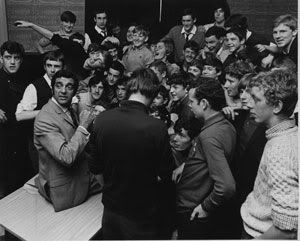 The Baltic Fleet, The Parkhead Rebels, The Bundys. Names of up-and-coming bands in
Glasgow,
right? Hardly.
They're some of the monikers used by the hundreds of street gangs that have plagued the Scottish city
for three centuries now.
According to a
report
in the
Evening Times,
there are roughly 2,000 gang members in Glasgow and more than 110 operating gangs. And this
article
gives a glimpse of the damage they have wrought: Glasgow has one of the highest murder rates of any western European city, with 55 victims per one million people; between 2002 and 2005, there were almost 600 15-year-old victims of violent crime in Glasgow; in some areas of the city, one in 10 residents has committed a violent offense.
For many, the gang ties have been passed down from generation to generation. Blood feuds with blood ties. "Some of the gangs that are running about now in 2006 have got the same names and the same territorial areas as the gangs that were running about between the wars," said Detective Chief Superintendent John Carnochan in this
story.
Glasgow's burgeoning
knife culture
has also been cited as a contributing factor.
But for the vast majority, the general everyday malaise associated with dire poverty is to blame. Boredom breeding bloodshed. "They're not criminal gangs," Carnochan explained. "It's, sadly, recreational violence. That's what they do on a Saturday night in those areas."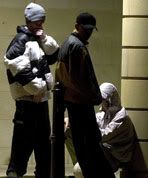 Over the years, the city's thriving music scene has often had a positive, unifying effect on the community. During the 1950s, Glasgow's jazz-filled dance halls and ballrooms brought the youth of the city together (though scuffles between gangs were an occasional problem). When punk officially broke during the summer of 1977, teenagers began to venture forth from their own turf to gig venues and record shops, galvanized by the movement's energy, not concerned with the potential gang-related repercussions.
And of course, the most famous example was the effort of
Liverpool's
Frankie Vaughan,
who attempted to bring peace to the warring gangs of Glasgow's Easterhouse section with a weapons amnesty. Surrender your chibs and stakeys, Vaughan declared, and I will help build you a new community center. It's been said many of the gang members were
participating for the publicity alone,
but the campaign did have its positive results, as it brought worldwide attention to a centuries-old problem.
Hear them for yourself.
Download a pair of tracks from Glasgow's own
Sons And Daughters
:
"Fight"
and
"Blood."