Graham Weir, a lecturer in popular music at
Napier University
in
Edinburgh,
offers a simple explanation as to why black music has been quite slow in catching on in Scotland.
"We we don't have the same black community like in England which pushes so much music forwards," Weir said in
this
article. "R&B and
drum 'n' bass
are underground here, but it's never been mainstream and that's just down to the ethnographic makeup."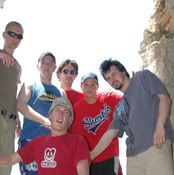 However, it's only a matter of time before Scottish hip-hop emerges from the shadows of obscurity and is finally embraced by the listening masses. And it's acts like Edinburgh's
Fountainbridge Collective
that will be leading the charge. (In the aforementioned article, they are mistakenly referred to as Fan Bridge Collective. Yes lads, you most certainly haven't achieved mainstream status just yet.)
Fronted by a total of
four MCs
-- who go by the pseudonyms Buckwheat, Buddie Scrape, Fotofit Gringo, and Solenoid -- and backed by a thumping rhythm section, FBC are charismatic, cocksure, clever, and catchy as hell. They'll be playing their brand of head-nodding hip-hop May 13 at The Swamp Bar as part of
Tigerfest.
Hear it for yourself.
Download:
"Feast" by Fountainbridge Collective.