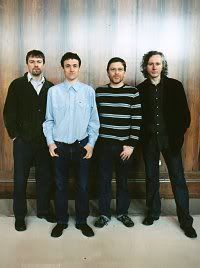 Run-D.M.C.'s
partnership
with
Aerosmith
got the ball rolling. The
Beastie Boys'
Licensed to Ill
kept things moving forward.
Anthrax's
"I'm The Man" single (I still remember the first time I heard this beauty: played on Steve Jackson's boombox during a Cub Scout camping trip) and its remake of "Bring The Noise" -- which featured the song's creators,
Public Enemy
-- were giant leaps forward. Yeah, that's basically rap-metal's lineage in a nutshell.
The genre finally went mainstream in 1993, with the release of the soundtrack to
Judgment Night,
an LP that was the brainchild of
Immortal Records
CEO Happy Walters. The premise of the album was simple: Pair up a rock act with a rap act. Have them record a track. Rinse, repeat.
The movie bombed, while the soundtrack went gold. For someone like myself, caught in a musical tug-of-war of sorts (I still had the stereo bumpin' to
N.W.A
and PE, while being slowly grasped by grunge's ugly, plaid claws), the
Judgment Night
soundtrack was a godsend.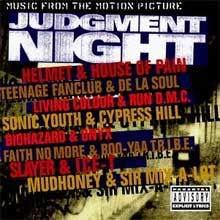 But as much as I dug the tracks from those artists familiar to me (
Ice-T
/
Slayer,
for example), I always found myself coming back to "Fallin,'" the collaboration between
De La Soul
and a Scottish group I, back then, knew next to nothing about:
Teenage Fanclub.
Utilizing a sample from
Tom Petty's
"Free Fallin,'" the song features memorable lyrics ("Lingo's busting while the guitar swings/B-side copies for the radio plays") and plenty of shiny guitar hooks. It's been over a dozen years since I've gone anywhere near the
Judgment Night
soundtrack, but I can't imagine any of the tracks hold up as well as this one.
Hear it for yourself.
"Fallin'" by De La Soul and Teenage Fanclub.