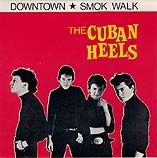 When it was announced that plans were in the works to convert
the Glasgow Apollo
into a bingo hall, something unique happened. Glaswegians normally separated by things like politics, educational background, and income, came together to protest. It's said that city councilors, band members, Radio 1 DJs –- even the
Church of Scotland Presbytery
–- joined the public campaign, which was led by a pair of local music fans named Christine Oliver and Valerie Paul.
Well, the show of solidarity paid off, as the Apollo's ownership company, Mecca, eventually cancelled its plans. And after several months of being stuck in limbo and having closed up shop, the joint reopened Sept. 29 with a gig by
The Tom Robinson Band.
One night later,
The Stranglers
played, supported by a pair of Scottish acts:
The Cuban Heels
and
The Valves.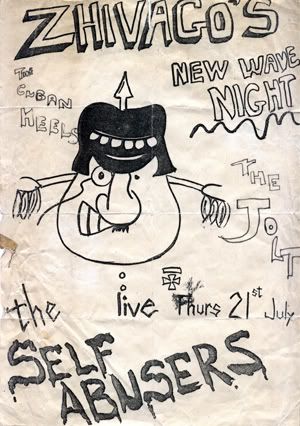 The Cuban Heels featured
John Milarkey,
who was an ex-member of one of
Glasgow's
first punk groups,
Johnny & The Self Abusers.
As the stories go, Johnny & The Self Abusers split the day their lone single was released (November of 1977). One half went on to form Simple Minds; the other, headed by Milarkey, The Cuban Heels.
However, the Simple Mind's official web site is uncertain if this is how it went down. A gig advert on the site (left) from July of 1977 lists The Cuban Heels
and
The Self Abusers as performers. No one's sure why the members of the latter band were using their former moniker and not their new one, Simple Minds. A head-scratcher, indeed.
Hear it for yourself.
Download:
"Downtown" by The Cuban Heels.
The group released this single on Steve Mackie's Housewive's Choice label in 1978. It's a thorny version of
Petula Clark's
1964 crossover hit of the same name. An album entitled,
Work Our Way To Heaven
followed soon after, before The Cuban Heels faded into obscurity.
Note: Stumbled upon this late last night on the Glasgow Apollo site and just had to add it. Ali MacKenzie, the drummer from The Cuban Heels, shares his thoughts on the night they supported The Stranglers:

"Hi guys, what a great site. I just wanted to correct one small thing. I was a member of The Cuban Heels and we supported The Stranglers in September 1978. Third on the bill was not The Exile, but a rotten band from Edinburgh called The Valves. They were managed by the promoters Regular Music and were extremely pissed off that Jean Jaques Burnel of The Stranglers moved us up the bill at the last minute, leaving the Valves playing at 7:30 p.m. to 8 people -- heh heh. Even though we had a pretty big following at the time, Regular Music never once put us on any of their bills after that. I am now inspired by your site and am determined to dispense with modesty and use the words, 'I played the Apollo' a lot more often! Good luck."