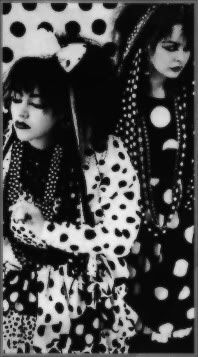 By the time
Strawberry Switchblade
made their debut at the
Glasgow Apollo,
the end was nigh. Avid concertgoers had rechristened it The Appalling, mainly on account of the venue's infamous smell, which came as a result of flooding in November of 1982. The interior was also becoming increasingly dilapidated -- plaster falling, paint chipping, "plush" seats breaking.
In 1984, Strawberry Switchblade opened for the
spiky coiffed
Howard Jones,
who had emerged as one of the U.K.'s biggest stars that year thanks to his synth-pop debut,
Human's Lib.
Strawberry Switchblade were a logical choice to open for Jones. The ladies -- Jill Bryson and Rose McDowall -- hailed from
Glasgow
and were, sonically, mining much of the same keyboard-soaked, spoonful-of-sugar pop territory as Jones.
The date of the concert was Dec. 20. Six months later, the Apollo officially closed its doors. There was talk of a movement to save the venue, much like the one in 1978 (which will be covered later this week), but it never materialized. The building was torn down in 1989.
Hear it for yourself.
Download:
"Trees and Flowers" by Strawberry Switchblade.
The song, which was released on
Zoo Records
in 1983, was the band's first single. Bryson and McDowell had a bit of help with it -- and it came from a pair of already established artists.
Ian McCulloch
paid for the manufacturing costs of the single, while fellow Scot
Roddy Frame
played guitar. The version here is the extended mix from the
enhanced version
of their debut album.