There's now a
Walkabout
at the corner of Renfield and Renfrew Streets in
Glasgow.
One of those kitschy, eatery-slash-drinkery venues that are ubiquitous here in the States. This particular one is Australian-themed and promises to deliver unto its patrons -- hold onto your Aussie bush hats! -- the "awesome spirit of Australia." That, and kangaroo and crocodile fillets cooked to your liking.
One of the most famous concert venues in all of Europe once stood at this location. From 1973 to 1985, the
Glasgow Apollo
played host to some of the biggest names in rock and pop music:
The Who,
Led Zeppelin,
Black Sabbath,
Roxy Music,
Neil Young,
Lou Reed.
The concerts at the Apollo were often described as life-altering -- for both music-maker and muso alike. Of course, it's easy to heap much of the credit for the atmosphere upon the artists who performed there, but time and again, the fans were the ones being lauded afterwards. Warm, inviting, and one-of-a-kind the Glasgow audiences were called. And in the same breath: demanding, crazed, and discerning. According to legend, one band had the words "I played the Apollo and survived" printed up on T-shirts.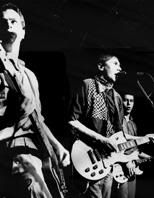 The bouncing balcony, the unusual stage (it checked in at 20 feet high), the "It's good – it's Green's" slogans upon the custom carpeting, hiding booze in the ceiling above the tea-room's toilets,
the grime and the gigs
-- it will all be relived this week, as I write about some of the lesser known bands who played there, the Scottish acts who opened up for the more eminent English acts.
Bands such as
TV21,
who hailed from
Edinburgh.
The group played twice at the Apollo: April 25, 1981, while opening for
The Undertones;
and May 27, 1982, while opening for
The Rolling Stones
during the warm-up portion of their
Tattoo You
European Tour. The second was more noteworthy, since it was one of the band's last shows. One night later, backstage at the Edinburgh Playhouse, the band shocked quite a few when its members officially called it quits. (Which is an interesting entry for another day.)
Hear it for yourself.
Download:
"Playing With Fire" by TV21.
Note: I can't recommend this Glasgow Apollo site enough. A must for anyone who attended a show there, as well as those who are all-around fans of the Scottish music scene.