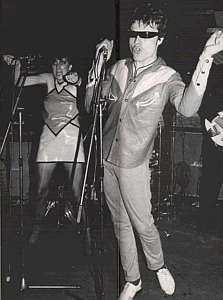 The tales of bouncer depravity at the
the Glasgow Apollo
have become legendary. Some placed drawing pins inside their jacket lapels to dissuade anyone from trying to land a
Glasgow Kiss.
Gerald Case of
Devo
recalled how a cadre of the goons lumped up a fan who had managed to scale the venue's unusually high stage; when Case complained, he was told he'd meet a similar fate.
There was the tale involving Animal, lead singer of
The Anti-Nowhere League.
The odious frontman tried to spit upon an unruly member of the audience -- only he missed, and the loogie nailed a bouncer instead. Naturally, word got 'round to the other surly guardsmen regarding the transgression, and only a planned escape spared The League from a post-show beatdown. And lastly, who could ever forget the
now famous incident
involving
The Clash
during their On Parole tour back in 1978.
As the 70s sped on, the Apollo increasingly attracted the era's top bands. The venue was certainly gaining a reputation; unfortunately, so were "the black-suited, red-necked Clydeside men" who served as the hall's bouncers. Go out of your head and you were tossed in the street
on
your head.
One can assume the chucker-outs weren't on their best behavior during the pair of shows
The Rezillos
did in late 1977. Over the span of two months, the Edinburgh punk band opened for
The Stranglers
and
The Ramones,
two incendiary acts known for getting their audiences to bare some teeth. Yes, on those evenings, the crunching guitar hooks were likely being complemented with right hooks.
Hear it for yourself.
Download:
"Somebody's Gonna Get Their Head Kicked In Tonight" by The Rezillos.