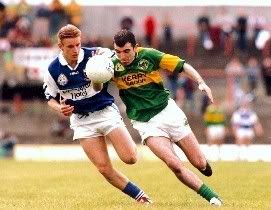 A Waterford girl once told me, "The only accents I can't understand are those of a Kerryman." That's probably a good thing, lass, because all the Kerryman would likely be talking about is his fecking football squad. Seventy-one Munster titles, 52 appearences in the All-Ireland final, 34 senior championships. Enough already!
Anyway, back in 2005, when the GAA released its best moments of Gaelic football and hurling in the television era, I was a tad upset to see Seamus Darby's goal was
only
at No. 3. For those who lack football acumen, Darby tallied a last-minute goal in the 1982 All-Ireland final, giving Offaly the victory and preventing hated Kerry from securing the much coveted five-in-a-row.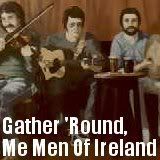 The top moment on the GAA's list? Well, that would be Michael Donnellan's solo run against Kildare in the '98 final. Donnellan's sprint down the Croke Park pitch set up a Sean Og de Paor point and helped lead Galway to its first football title in over three decades.
Getting back to that Waterford lass: Maybe it's best she doesn't participate in a discussion involving football. The Deise have never won shite!
Download:
"The Arrival Of The Queen Of Sheba (In Galway Bay)"
and
"Barney From Killarney"
by De Dannan.