1977
December 12
Johnny & The Self Abusers
cut their only single: a seven-inch on
Chiswick Records,
"Saints And Sinners"/"Dead Vandals." As the stories go, the band splits the day its record hit the shops. And from the ashes emerge two new acts:
Simple Minds
and another group that will proove to be significantly less successful,
The Cuban Heels.
According to stories, Johnny And The Self Abusers contact Chiswick to have Simple Minds printed on the singles, as
Jim Kerr
has grown weary of the sophomoric moniker. ("I began to feel Johnny And The Self Abusers sounded like Big Dick And The Four Skins," he says. "I can do without that kind of toilet humor.") However, it's too late; the singles have already gone to press.
Christmas
Bruce Haggerty retires the Silver Thread Hotel in
Paisley,
which has reigned as the
Glasgow
area's offical punk headquarters since September. Haggerty begins promoting punk shows. One of his first takes place in Glasgow: a gig featuring The Backstabbers that famously degenerates into violence.
1978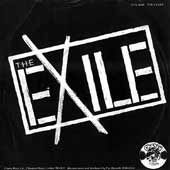 February 17
Scottish punk fans double their pleasure: two releases on the same day.
The Zones
-- who are essentially
PVC2
without
Midge Ure
-- release their debut single on Zoom: "Stuck With You"/"No Angels." Meanwhile,
The Exile
issue their follow-up to last June's EP: "The Real People"/"Tomorrow Today"/"Disaster Movie."
February 24
The Stiff/Chiswick challenge series -- designed to highlight the U.K.'s top, unsigned acts -- hits Edinburgh's Clouds Disco. Among those Scottish performing are
The Skids,
The Subs,
The Monos, The Cuban Heels, Groper,
The Freeze,
and
The Scars.
Thanks to the event, The Subs will ink a deal with Stiff's One Off label and release "Gimme Your Heart"/"Party Clothes" March 3.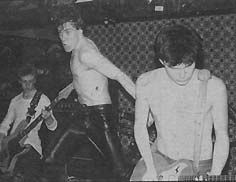 March 14
The Skids, who are currently in the process of being courted by
Virgin Records,
issue their EP
Charles
on their own No Bad label. The
Dunfermline
group formed out of a
David Bowie
cover band regrettably dubbed Tattoo. The release also touches off a five-month flurry of tartan punk releases, as Scotland is now officially a player in the U.K. punk scene.
March 23
The Cuban Heels' debut single hits record shops: "Downtown"/"Do The Smok Walk," on Housewive's Choice. The release isn't a smash, but the band can take solace in the fact that it released a single before Simple Minds.
April 25
The Jolt
have taken the first steps down the mod revival path, releasing a cover version of
The Small Faces'
"What'cha Gonna Do About It."
Hear it for yourself.
Download:
"Charles" by The Skids.