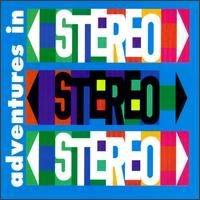 Sonic Flower Groove Scream
was a dud, both criticially and commercially; understanding the distress and disenchantment that typically hounds an artist following such a derided record, one can see why
Primal Scream
co-founder Jim Beattie decided to take a let's-deconstruct-pop-music approach with his subsequent work.
In '87, Beattie left the band he helped create and after the short-lived
Spirea X,
formed
Adventures In Stereo.
The Glasgow group's singular approach to music-crafting consisted of cutting and pasting loops, snatches, and samples of previous work, mixing in original tidbits by Beattie, and polishing up the veneer with the heavenly voice of Judith Boyle. Yes, it was a far cry from anything early Primal Scream had churned out.
"In reviews, people have said, 'It reminds me of a time, but I can't put a finger on it,'" Beattie once remarked when talking about Adventures In Stereo's early output. "And it's probably because there are so many influences from so many different eras of music."
Hear it for yourself.
Download:
"Traffic" by Adventures In Stereo.
A nice example of what Beattie and crew did best: get-in/get-out pop songs of the astral and infectious variety.