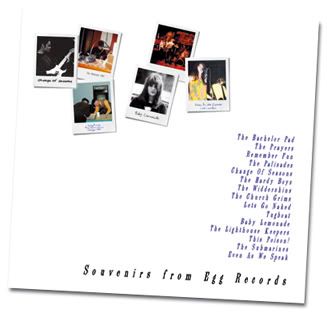 I already covered Egg Records and their fantastic
An Introduction To 1988-1991
here,
but felt the desire to revisit the label since another compilation has been issued.
Titled
Souvenirs From Egg Records,
the collection will feature nearly twice as many tracks as its predecessor and three times as many artists. Also, if it's anything like
An Introduction To 1988-1991,
Souvenirs
will prove to be wildly popular. (
An Introduction
sold out long ago and has even become difficult to track down on sites such as
Poppolar
; I've already secured meself a copy of the new comp.)
A quick history lesson for the uninitiated (and those too lazy too click on the aforementioned link): Egg Records, which was based in
Glasgow,
kicked around for just three years ('88 to '91), during which it churned out just five singles, a live album, a studio album, and a four-song compilation EP. The label primarily focused on Scottish bands, but did feature one from across the Atlantic (Canada's
Change Of Seasons
). In 2003, Egg returned to reissue its
original catalogue
; it also expanded its releases to include artists not originally on the label's roll call, such as New Zealand's
The Bats.
One of the bands featured on the new compilation is Scotland's
The Prayers,
described by the
NME's
Stephen Dalton as a band who's "fragmented beauty sites somewhere along the
Pale Saints
/
Lush
/
My Bloody Valentine
axis." The Prayers released two singles for Egg during its initial run: "Fingerdips" in November of 1990 and the 12-inch "Sister Goodbye" that same month.
Hear it for yourself.
Download:
"Puppet Clouds" by The Prayers.