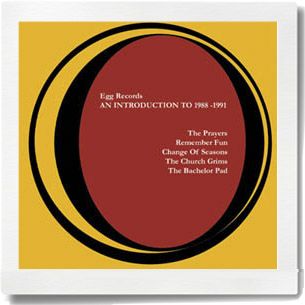 Five singles, a tiny compilation entitled
A Lighthouse In The Desert,
a live EP, a studio EP -- eight releases in total. That was Egg Records' output during its initial three years of existence. Hardly prodigious, we know.
The label, which was based in
Glasgow,
officially kicked off back in 1988. It released material from local bands such as
The Bachelor Pad
and
The Prayers,
as well as bands from beyond Scottish borders, such as
Change Of Seasons,
who hailed from
Toronto.
After going belly up in '91, the label made a surprising return a dozen years later with a CD release entitled,
An Introduction To 1988-1991.
It was a compilation that culled tracks from all eight of Egg's vinyl releases and then tossed in a never-seen-the-light-of-day ditty from Change Of Seasons, as well as two more from acts featured on the
Lighthouse
comp: Glasgow's
Remember Fun
and
Paisley's
The Church Grims.
Compact disc re-issues of Egg's original bands followed soon after. The label has also expanded its restoration program to include those late 80s and early 90s independent artists of the
non
-Egg variety -- many of whom represent the rarely ballyhooed Oceanic music scene, like Australia's
The Palisades
and
Let's Go Naked,
and New Zealand's
The Bats.
Egg Records certainly had an impact on the indie scene during the post-
C86
days; it's making even more of one today.
Hear it for yourself.
Download:
"Meet The Lovely Jenny Brown" by The Bachelor Pad.
It was part of a five-song EP released by the band in May of 1991. It was also the seventh of Egg's initial eight releases.