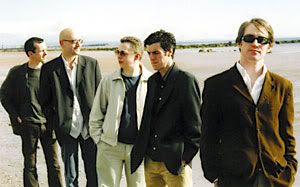 Dogged comparisons to
The Smiths
have nipped at the heels of
Trashcan Sinatras
since the release of their first album, 1990's
Cake.
Such comparisons were frequently unfair, though, as Trashcan Sinatras lacked the noted urgency of a
Johnny Marr
and the lyrical irony of a
Morrissey.
(This, however, didn't stop the band from performing a Smiths' tune, "I Know It's Over," for the 1996 compilation,
The Smiths Is Dead,
which was released by the French magazine,
Les Inrockuptibles.
)
Regardless, Trashcan Sinatras -- who are more in line with acts such as fellow countrymen
Travis
-- have enjoyed a rather successful career (spats with the
NME
aside), emerging in the 1990s as one of the leading adult alternative pop acts in the U.K.
After following up two renowned first albums with the haphazard -- both for its songwriting and production --
A Happy Pocket,
the
Glasgow
fivesome got back on track with 2004's
Weightlifting.
Filled with both uplifting, uptempo numbers and tracks of reflective melancholy, the album harkened back to the group's earlier, stronger days.
Hear it for yourself.
Download:
"Got Carried Away" by Trashcan Sinatras.