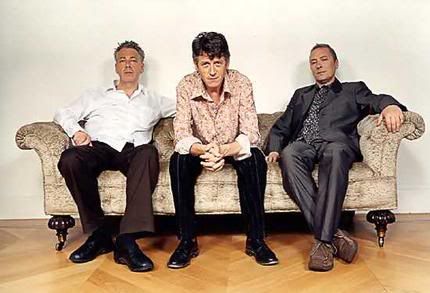 The Blue Nile
are a study in contrasts. Crafting soundscapes with traditionally "cold" instruments (synthesizers and electronic percussion), they still manage to achieve a warmth in their music thanks to the tender, affecting voice of Paul Buchanan and his all-too-human lyrics. Also, there exists a geuine love for the songwriting craft, however, the
Glasgow
trio has released just four LPs in over 20 years of being together.
Hats
is widely regarded as the group's masterwork album. Here, the band's character sketches of lovelorn and lonesome souls trapped in an urban purgatory are more vibrant than ever. "Hats is a synonym for people in all their faded glory," Buchanan once said. "A hat gives them a character and comes to represent the individual."
Hear it for yourself.
Download:
"Let's Go Out Tonight" by The Blue Nile.
A song with a deceiving moniker, as it doesn't detail a couple celebrating their association, but rather, a relationship in its death throes.
"I know a place/Where everything's alright, alright/Let's go out tonight." Buchanan could be singing about an old stomping ground, a locale where heavenly memories were once forged, or the very past itself: the relationship's dizzying, early days, alluring to the protagonist for their purity.