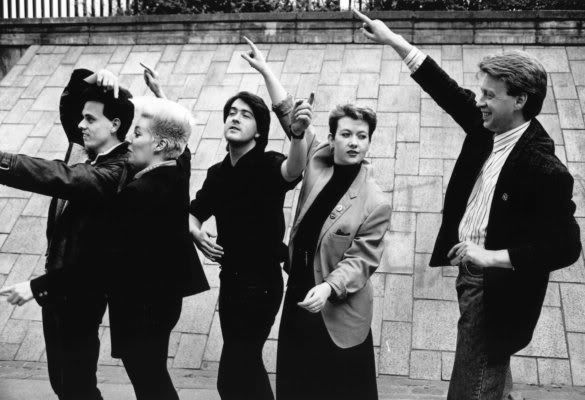 The following interview was featured in the House Of Dolls fanzine, Issue 21, January of 1989. Intrepid scribe Steev C sat down for a nice chat with
AVO-8,
an
Edinburgh
new wave
act oft described as having an
R&B
meets dance vibe.
AVO-8 formed in 1979, released a single on Stroppo Records ("Gone Wrong"), and then called it a day. The band reformed with a different lineup in 1985 and subsequently released three more singles: one on their own AVO Records and two others on
Cherry Red.
Here, members of the group offer up some particularly scathing, humorous, and oftentimes true comments about the Edinburgh music scene.
George Glen, bass: "Edinburgh's not the greatest scene in the world. We had to get out to make something."
Jan Hastie, vocals: "It's never done us any favours at all. Quite honestly, Edinburgh, thanks for absolutely nothing!"
Stephen Hastie, guitar: "It's amazing when you play a gig and think, 'What a great gig that was, everyone was jumping about at the front and cheering and thing.' And you read a review in the local Edinburgh newspaper thing and its like, 'AVO-8 had a couple of fans at the front and they were absolute shite,' and things like that."
Jan: "In Edinburgh, there's this big group of funk bands and this big group of soul bands and this big group of sort of funk/soul bands and there's only, like, two venues you can play."
Claire Gourlay, vocals: "No one goes out to see a band -- they go out for a drink and if there's a band on you don't get the comeback. They're not there to see you."
Glen: "Edinburgh's a city that's got a festival and a very arty reputation. People get entertainment through the festival and they get passive. They're very picky, very choosy, very stand-offish."
Jan: "So we're not that enamoured of Edinburgh music-wise at all."
Hear it for yourself.
"When You're Gone" by AVO-8.
The band also has a number of other tracks available for download
here.