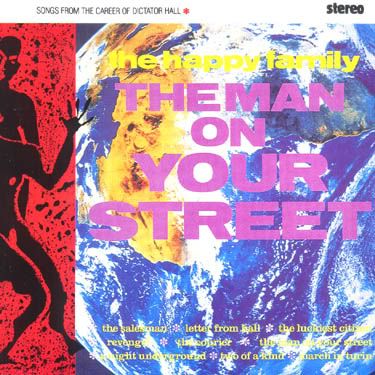 The Happy Family
is just a tiny blip on
Nick Currie's
impressive CV –- overshadowed by achievements such as the inventive (yet cash-inspired)
Stars Forever,
participation in a
weekly webcast cabaret spectacle,
and
"Fakeways: Manhattan Folk,"
a documentary about the
NYC
art and music scene. Founded in 1981 after Currie took a sabbatical of sorts from the
University of Aberdeen,
where he was studying literature, The Happy Family recorded just one album, 1982's
The Man On Your Street,
before the group disbanded and Currie returned to his schooling.
The Happy Family garnered a fair amount of press during its short existence, mainly on account of the lineup consisting of three ex-
Josef K
members: guitarist and pianist Malcolm Ross (who was also a member of
Orange Juice
at the time), bassist David Wendell, and later, drummer Ronnie Torrance. (One of Josef K's roadies, Paul Mason, was The Happy Family's fifth member.) However, this helped contribute to the band's undoing, as comparisons to Josef K were both inevitable and frequent.
Unfair, too, as The Happy Family's
The Man On Your Street
bore little resemblance to anything produced by the aforementioned
Sound Of Young Scotland
act. The LP is billed as a "Brechtian concept album about a fascist dictator and the Red Brigades," and features sometimes bouncy, sometimes moody indie pop laced with Currie's typically wry lyrics. (Trivia which may only interest me: According to
4AD,
which released the record, The Happy Family had some rather ambitious orchestrations planned for the LP, but the label lacked the funds to pay for it.)
Hear it for yourself.
Download:
"Revenge!" by The Happy Family.