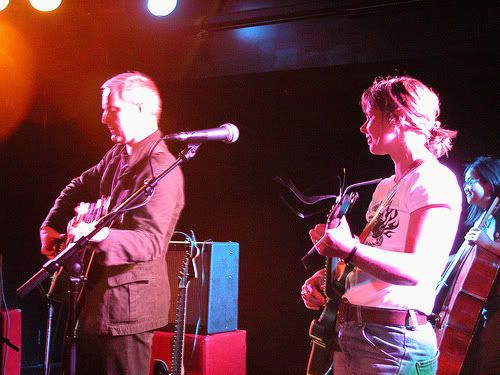 It was emphatically stressed in the weeks prior that it was
not
a reunion gig. No one bought it, of course. Not for a second.
On June 19, Eugene Kelly and Frances McKee -- the pair behind the seminal group
The Vaselines
-- performed at the
ABC2
in
Glasgow.
At the beginning of the performance, McKee remarked that everyone in attendance had been lured to the venue under false pretenses. The show was billed as a pair of solo sets and would not deviate from such: McKee would play tunes from her new album,
Sunny Moon
; Kelly would do songs from his,
Man Alive.
But then came the surprise encore (okay, not really a surprise to anyone), and the moment all in the crowd -- including folks like
Stephen Pastel,
Stuart Murdoch,
and
Isobel Campbell
-- had been eagerly awaiting. For 20 minutes, the pair belted out a slew of Vaseline treasures, everything from "Molly's Lips" to "Monsterpussy." Hearing the elegant chirp of McKee once again blend so seamlessly with Kelly's more coarse pipes . . . one had to wonder why they hadn't staged such a reunion years ago.
Hear it for yourself.
Download:
"Rory Rides Me Raw" by The Vaselines.
Not certain if this tune was played at the ABC2 (tracking down a set list has been difficult); I'm offering it up for the simple reason that it's one of my faves. It was the B-side to the group's first single, "Son Of A Gun," which was released on Pastel's
53rd & 3rd label.
And before you ask, Rory was the name of McKee's bicycle.
(The above photo was snapped by the user
Cadd
and uploaded on
Flickr.
)
Note: One of our loyal readers checked in with a list of the Vaseline songs played at the June 19 show: "Molly's Lips," "Monsterpussy," "Jesus Wants Me For A Sunbeam," and "Son Of A Gun." Thanks, Peter!