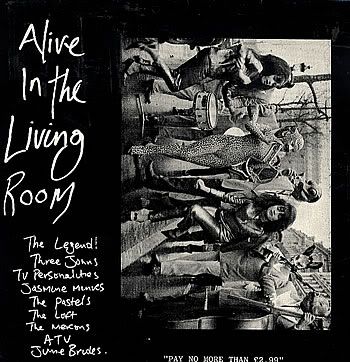 Time to dip into the
Creation Records
vault once again . . . .
In 1983,
Alan McGee
and
Dick Green
founded The Living Room, a club located in a cozy room (once used for hosting folk acts) above London's Adams Arms pub. There, in the tiny section of
Fitzrovia
and in the shadow of the
Post Office Tower,
McGee and Green showcased a number of then unknown guitar bands:
The Jasmine Minks,
June Brides,
The Pastels,
The Loft.
These acts –- along with luminaries such as
Television Personalities
-- were later featured on the now extremely hard-to-find
Alive In The Living Room,
which was Creation's first-ever album (it was also initially on cassette only). The LP's sound was primitive at best, having been culled from several live performances at the club, and was widely panned by critics. (Quick bit of trivia: London police raided The Living Room in February of 1984 on account of it being overcrowded; the raid can allegedly be heard during one of the songs on the album's second side.)
Alive In The Living Room
remains the only Creation release featuring June Brides (strangely, McGee passed on them). However, after the band split in 1986, McGee did ink singer/songwriter
Phil Wilson
to a record deal. Wilson went on to release a pair of singles for the label: "Waiting For Change" and "10 Miles."
Hear them for yourself.
Download:
CRE 036: Phil Wilson - "Waiting For A Change," (7"+D7"+12"), March, 1987
CRE 046: Phil Wilson - "Ten Miles," (7"+12"), June, 1987